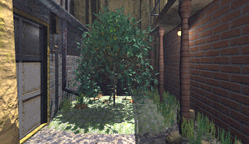 Dear Friend, by the time you reading this message you will have found the newly discovered part of RHEM 3. I lived here for some time and Unfortunatelly I'm not here anymore to wellcome you in person at my room which I build during my stay in this part of RHEM.
RHEM III SE - The Secret Library Special Edition expands the huge world of the original RHEM 3 by a new unseen area with many new puzzles and challenges. The additional goal is to find one quarter of a medaillion that you may need in the exploration of the upcoming RHEM V.

RHEM III SE - The Secret Library Special Edition is a new journey to Rhem with the task to find a mysterious artefact, a black crystal. Adventuresomeness, attentivness and the ability to solve engimas will help to unveil the mystery of this new adventure. To uncover the logic behind this place you need to find the information hidden in the secret library. You will also need the help of the cave-dwellers, but they will ask something of you in return.