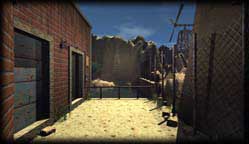 Hello my friend. A while ago you gave me a photograph of a relic from the caves of Rhem. I am writing you this letter to let you know that I have deciphered the drawing on the relic. With this information you can now explore an unknown part of Rhem. The enclosed note holds the key to your entry. Thank you for your help. Good luck on your journey.
On your arrival you meet Kales who has discovered that a mysterious artefact, a black gem, is hidden somewhere on Rhem. Because the doorway must be opened by two persons but remains open just long enough for only one person to slip through, you are the only one accessing this new part of the island. Again, on your own you must uncover these new secrets of Rhem.

You will soon find out that the mysterious black gem is not the only mystery on Rhem. You will discover new passages to unknown but also to familiar and well-known places on Rhem. To find the black gem you must for one uncover the hints hidden in the secret library. But you will also need the help of some other characters to solve all the mysterious of Rhem. Some of these characters, like the redcapped Cavemen, you already met in Rhem 2. But this time they will ask something of you in return for their help.

Rhem 3: The Secret Library sets you into a huge, fantastic world full of strange vehicles and buildings, unknown mechanisms and machines, secret passages and doorways. Adventuresomeness, logic, attentivness and the ability to solve engimas will help the player to slowly but surely unveil the mystery of this new adventure on Rhem. Everywhere on Rhem you can find hints and solutions that will help you to unveil some of the strange enigmas and puzzles in Rhem 3. And remember, finding the black gem can be the final discovery in Rhem 3, but it must not be...